Services
Fox Hill Veterinary Clinic has been serving the veterinary needs of Overland Park, Leawood and their surrounding areas since 1971. We understand and share your compassion for animals, and it is our goal to provide the highest standards of veterinary medical care available.
We offer services such as:
Boarding Service:
Fox Hill Veterinary Clinic boards cat and dogs all year round. Each pet gets their own room that is cleaned daily.  Dogs are exercised outside twice a day, additional exercise is available upon request.  We serve Science Diet Adult dog and cat food twice a day. We welcome you to bring food, medications, toys and comfort items. All of our kennel attendants are trained to administer medication both orally and by injection.
Grooming Services:
Cat and Dog grooming is offered Monday – Wednesday and Friday. All pets need to be dropped off between 7:30 A.M. and 9:00 A.M. All pets may bring in their own shampoo or request medicated shampoo treatments for irritated skin. With every grooming nails are trimmed, anal glands are expressed and ears are cleaned.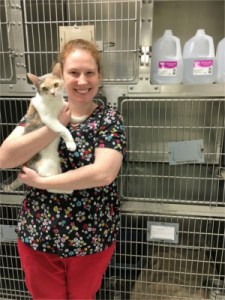 Fox Hill Veterinary Clinic Location:
4454 W. 107th St.
Overland Park, KS 66207
Phone 913-381-2500
Fax 913-273-0905
foxhillveterinaryclinic@gmail.com

Fox Hill Veterinary Clinic Hours:
Monday – Friday 7:30 A.M. – 5:30 P.M.
Saturday 8:00 A.M. – Noon
Closed Sunday
To give your pet the best possible service, we operated using appointments.  Be assured, we make a sincere attempt to schedule you quickly and see you on time.
Drop Off Services are available during normal business hours if an appointment is not convenient for you.  We suggest that you leave your pet with us in the morning and pick them up in the afternoon.
In case of an emergency after hours, please call Dr. Alexander at 913-469-8104 or Dr. Webber at 913-649-0986.